Date: February 3, 2021 at 9:29:03 AM PST
Greetings San Diego College of Continuing Education Community:
Below (and attached) are flyers for upcoming events that have been organized by representatives of the District and campus Diversity Committees in collaboration with the District EEO and San Diego community partners.   The events are:
February 10 – Gwen Thompson-Chamberlain and Linda Brown – Black Storytelling
February 20 – Dr. Ron McCurdy – Langston Hughes' Ask Your Mama! Multi-Media Jazz Project
March 8 – Dr. Joy DeGruy – Post Traumatic Slave Syndrome and Healing as a Country Presentation
The events will be offered in a virtual format.  The Zoom links will be sent out prior to the event.
Faculty – Please encourage student participation by offering extra credit.
Thank you for supporting these events.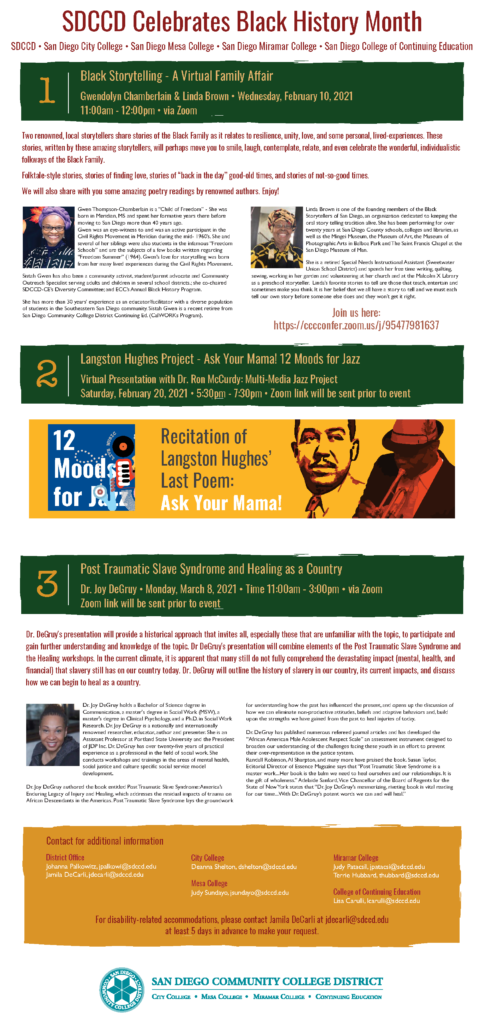 Black History Month 2021 – Black Storytelling (002)
Black History Month 2021 – Joy DeGruy
Black History Month 2021 – Langston Hughes
Black History Month 2021