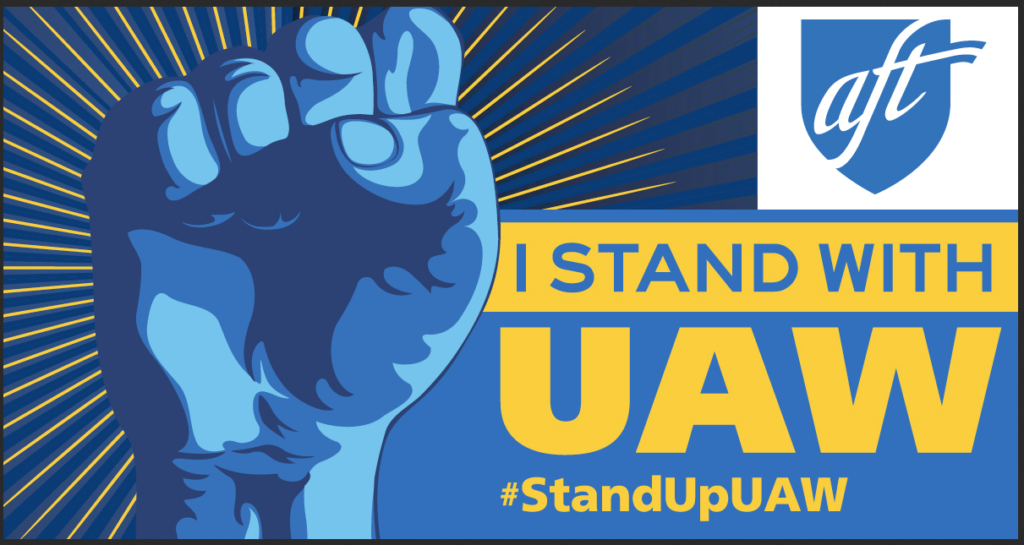 SAG-AFTRA and AI Information
UAW Day of Action Flyer
The historically momentous implications of the current UAW strike for all workers and union organizing cannot be overemphasized! This Saturday UAW is calling for a national day of action, and AFT 1931 is standing in solidarity by holding a leafleting event at Kearny Mesa Ford. Please join us this Saturday. Leaflets and signs will be provided, but please feel free to bring your own!
If you can't make it, you can still support UAW by posting a 30 second video with #StandWithUs on your social media profile. Or, you can send your video to erin evans at emevans888@gmail.com and she'll post it on AFT's social media profiles.
The leaflet we'll be using for the event is attached here, and HERE is a link to more information about the UAW standup strike and this Saturday's day of action.
SAG-AFTRA rally on Tuesday, October 10th, 11-12:30p at Presidents Way Lawn in Balboa Park! 
This is also an historically momentous event for labor and those of us grappling with the effects of AI. Please join AFT and others in our fight for fairness, our ability to control our work and our livelihoods (which are in serious jeopardy from AI), and to fight for fair adjustments to our pay in this new world of media that we live under.  Attached here is a thorough analysis of the SAG-AFTRA strike and its implications for the use of AI, which is relevant to our work as professionals in higher education!
Full details on the October 10th Rally may be found here:
https://www.sagaftra.org/san-diego-strike-support-rally;
_____________________________
Erin M. Evans, Ph.D.
Associate Professor of Sociology at San Diego Mesa College
Faculty VP, The AFT Guild Local 1931
CASA, Voices for Children
(she or they)
"Always ally yourself with those on the bottom, on the margins, and at the periphery of the centers of power. And in doing so, you will land yourself at the very center of some of the most important struggles of our society and our history." -Keeanga-Yamahtta Taylor
;