From the AFT National office, all AFT Guild members are welcome:
From: "Bill Shiebler, Human Rights & Community Relations" <bshieble@aft.org>
Subject: You're Invited: April 13th Town Hall Forum
Next Tuesday, April 13th, AFT will be hosting a virtual town hall forum to build awareness and activism to address the climate crisis and create millions of good union jobs.  We have some exciting speakers and I wanted to share the information with all of you. We would be extremely grateful if you could help spread the word about this event.
Would you be willing to share the information below with your members and/or on your union's social media platforms?
AFT Town Hall: Climate Justice, Jobs, and the Freedom to Thrive
April 13th @ 6:45pm EST
RSVP: https://www.mobilize.us/aft/event/380066/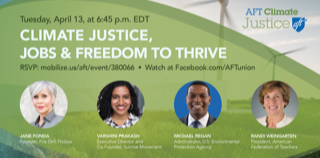 In the face of the Pandemic, with millions out of work, deepening racial inequity and the mounting Climate Crisis, now is a historic opportunity for workers to rebuild our economy. With the passage of the COVID Relief American Rescue Plan, we now need a long term economic recovery and infrastructure plan. "Build Back Better" must improve all of our communities, strengthen our unions, combat climate change, and address racial and environmental injustice. You're invited to join AFT members, climate activists, our union sisters and brothers, and elected officials to discuss what all of us can do to win bold investments that transform our schools and workplaces, expand pathways to high quality green union jobs and save our planet.
If you want to Retweet the AFT's post on twitter you can use this link: https://twitter.com/AFTunion/status/1379882793400991744
If there are any questions you would like to suggest we ask the speakers please feel free to email me directly.
Thank you!
Bill