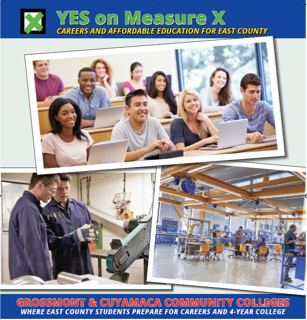 Dear Colleagues,
If you reside within the boundaries of the GCCCD (or know of anyone who does) please continue reading:
For longer than anyone can seem to recall, our colleges have been unable to rely on state funding to meet essential facility and infrastructure needs. The good news is that Grossmont and Cuyamaca Colleges have a strong track record of community support through local Prop 39 bond funds.
Beginning with the passage of Proposition R in 2002, the Grossmont and Cuyamaca College campuses have been in transformation. Aging structures were replaced with state-of-the-art facilities and classrooms such as the Communication Arts and Business Technology buildings at Cuyamaca College and the Health Sciences and Digital Arts building at Grossmont College.
When Proposition V passed in 2012, it continued the transformation by funding construction and renovation of facilities at both campuses. However, even with funding from R and V bonds, both campuses still have major unmet facility needs. The district's 2013 Facilities Master Plan (FMP) identified nearly $700 million in needs (in 2012 dollars), significantly more than  the $398 million provided by Prop V. You may wonder why the district didn't ask for more in 2012, but this was the amount public polls found would be feasible at that time when our community was still recovering from the Great Recession.
This is why we need Measure X, a $348 million bond measure on the November 8 ballot. With passage of Measure X, the unfunded needs identified in the Facilities Master Plan (and recent update of this plan) can be brought to reality so that Grossmont and Cuyamaca College students can receive an education in modern learning environments with the most current technology available. Without Measure X, no funding is in sight for critical needs identified for classroom buildings, child development centers, exercise science facilities,  outdoor learning labs, roadways, parking, security  and technology at both colleges.
Measure X also would provide for a Workforce Opportunities Resource Center (WORC), an innovative education hub planned by GCCCD's Workforce Coordinating Committee to expand workforce development and career-technical education provided by both Grossmont and Cuyamaca Colleges. WORC would respond to growing demands of East County businesses for a responsive, technology-enhanced workforce training center to support more unemployed and underemployed workers, disconnected youth, and returning veterans for in-demand jobs. WORC also aims to help address our growing local traffic challenges (2/3 of all East County workers commute out of our region to work) by providing a well-prepared workforce to encourage more companies to locate in East County.
That's why I urge you to cast your ballot in favor of Measure X — to advance our ability to serve East County and ensure a bright future for Grossmont and Cuyamaca colleges.
In Unity,
Jim