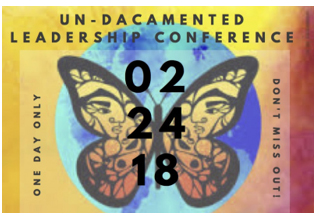 On February 24, 2018, The Dreamers Movement and EOPS clubs from Grossmont College will be hosting a conference for DACA,  AB 540,  undocumented students and community at the Grossmont College campus.
The purpose of this conference is to serve, empower, educate and unite with our community during this times of great uncertainty.  The conference will consist of different workshops aimed to empower our undocumented population.  Some of the workshops will consist of the latest news on DACA, Scholarships available,  Know your rights,  Licensing with an ITIN, how to contact Congress and many more. Everything will be completely free and will be open to the community. We hope to have approximately 200 guests plus volunteers.
The location will be at the Grossmont College Campus and will take place on Saturday, February 24, 2018, starting at 9 am.
ALL PROCEEDS RAISED THROUGH THIS GO FUND ME WILL GO TOWARDS SUPPORTING STUDENTS RENEWING DACA AND WILL BE GIVEN OUT IN THE FORM OF SCHOLARSHIPS .
Thank you! Your support will make a great difference!