Join the ranks of future organizers and leaders in San Diego!
The Students for Economic Justice (SEJ) Fellowship, a program of CPI, is an intensive 6-week full-time paid summer fellowship with the purpose of building stronger capacity for community and labor organizing in San Diego. SEJ fellows are placed with social justice and labor organizations, where they learn the skills and tools that talented, passionate students need to lead the fight for economic justice in San Diego. It gives students organizing training through skills building, political education and hands-on, in-the-field experience working on campaigns for economic and social justice.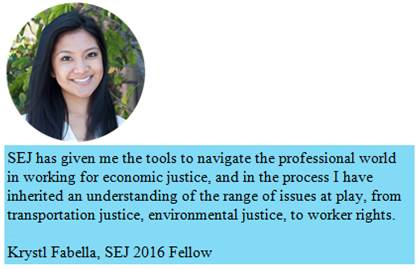 Applications for the Students for Economic Justice (SEJ) summer fellowship program are now available. Interested applicants can apply and read our application guide here:http://www.cpisandiego.org/sej_application_2017 Applications are due Tuesday, February 28, 2017.
If you know of any great candidates for our program, please encourage them to apply! We are looking for:
Students attending college in San Diego County
Students who have a passion for advancing issues and policies pertaining to low wage workers, communities of color, and other underserved communities
Students interested in career paths with a social and economic justice focus
Students who are dedicated to making a lasting impact in the San Diego region
Looking forward to an exciting summer for SEJ 2017!
We welcome participation from students of all genders, and racial and ethnic backgrounds. Students of color, women, LGBTQIA identified students, DACA students, and students from low-income and working class backgrounds are encouraged to apply.
For any additional information, please encourage prospective applicants to contact us at (619) 584-5744-ext 32 or at ana@onlinecpi.org