On this Election Day, We Look Back at the Black Americans Voting For the First Time in the 1960s: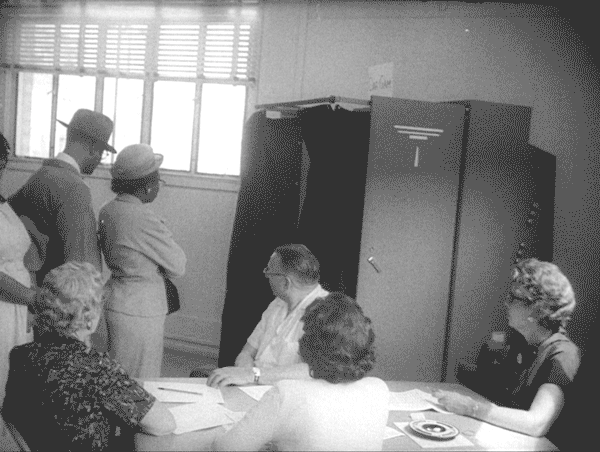 Voters make their way in and out of the booths during the 1966 Alabama Democratic Gubernatorial Elections. For many this was their first time ever being able to vote. Getty Images.
After the Voting Rights Act, millions turned out
Today marks the conclusion of a fraught political season like no other, with the denouement coming amid deep divisions over the future of the country and a coronavirus pandemic that has claimed more than 230,000 American lives. It also has come in the wake of a number of police killings, which sparked tremendous unrest and demonstrations against systemic racism and police brutality.
As the polls opened this morning, more than 100 million people had already cast their ballots in mail-in votes and in-person early voting. In many cities across the South, where hundreds of polling sites have closed over the last decade and lawsuits have been filed contesting the purging of voter rolls, it meant waiting in long lines for hours.
Near Atlanta last month, at the Gallery at South DeKalb in Decatur, Norman Robinson III stood in a line that snaked for more than a half-mile. Still, he said, "it's an awesome thing."
"My parents were jailed in college during the 1960s for exercising their rights to vote," said Dr. Robinson, an educator specializing in math, science and technology. "This is in my blood to make sure I honor and continue their fight for voices to be heard."
It wasn't all that long ago — just 55 years — when Black Americans could not easily vote. The Voting Rights Act, signed into law by President Lyndon B. Johnson in 1965, banned the use of literacy tests and challenged the use of poll taxes, among other hindrances that had made it difficult to register.
Today, as the nation awaits results in what has turned out to be a historic election in a historic year, we look back at the Black Americans who stood in the rain and the scorching Southern sun to cast their very first ballots and, ultimately, to finally have their voices heard.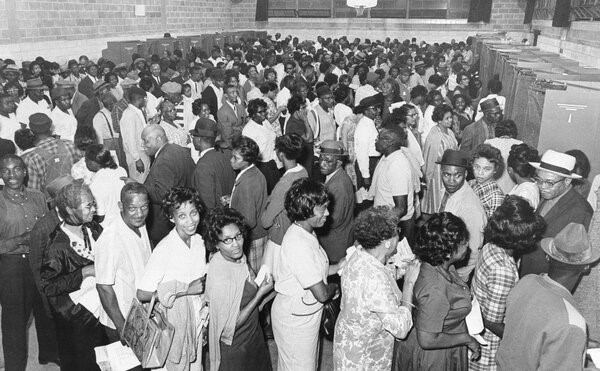 About 1,000 registered Black voters waited in line on May 3, 1966 in Birmingham, Ala., to cast ballots in the Democratic primary, the first major southern election after the 1965 Federal Voting Rights Act took effect.Associated Press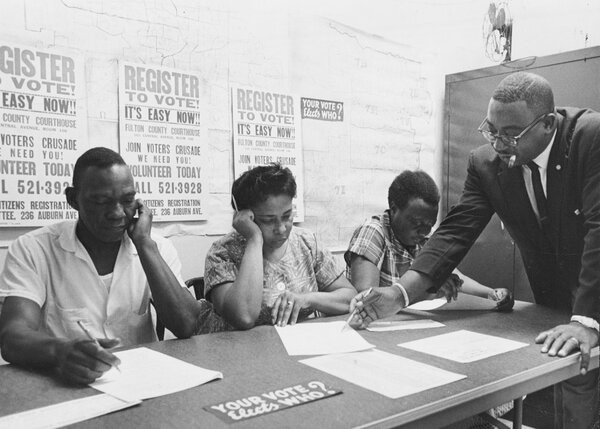 In Atlanta, Black residents learn how to fill out voter registration forms, beneath signs that read, "Register to Vote, It Is Easy Now!!"  Associated Press.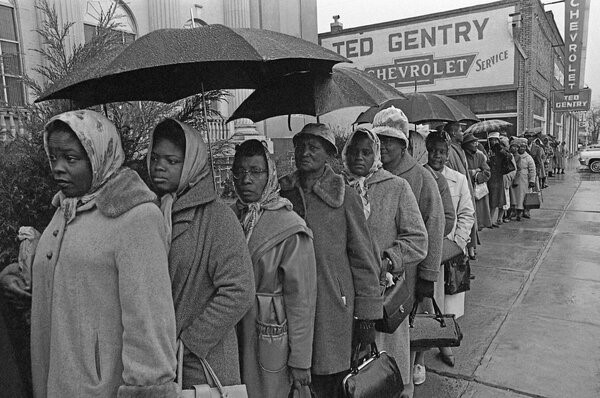 It rained all day on Feb. 17, 1965. But that did not dampen the spirits of Black residents of Selma, Ala., determined to register to vote. Nearly 1,000 Black people signed up that day to take the voter registration test.Associated Press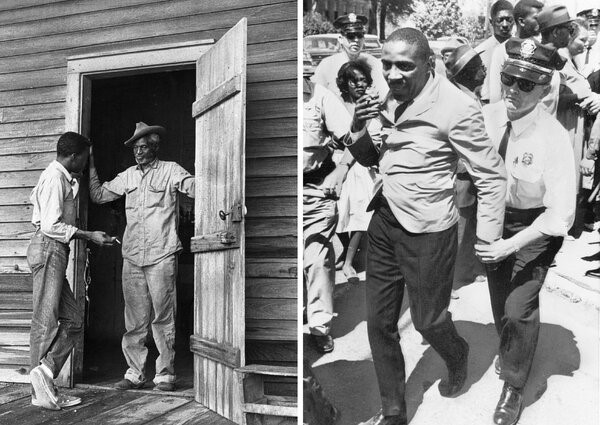 On the left, Danny Mitchell, a member of a voting task force in Iberville Parish, La., tries to persuade a resident to register to vote. And on the right, a police officer in Greenwood, Miss., walked out comedian Dick Gregory as he left the county courthouse after a group of residents registered to vote there. Mr. Gregory was led across the street by the police officer after he was told he was moving too slowly.Bob Adelman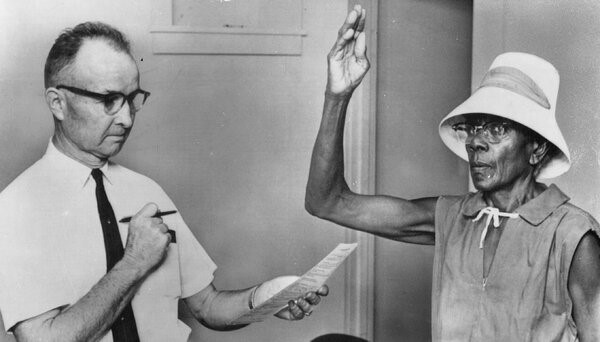 Jolla Moore, a 68-year-old resident of Jeff Davis County, Miss., is administered a voter registration oath by a federal examiner in August 1965. She said she had tried to register to vote seven times but had been turned down by local officials.Associated Press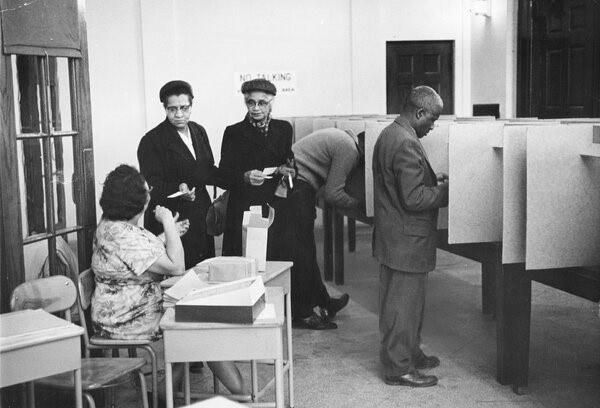 Voters in Washington, D.C., cast ballots in the 1964 Presidential election.The New York Times

Federal voter registrars sign up Black Alabama residents in January 1966. Associated Press.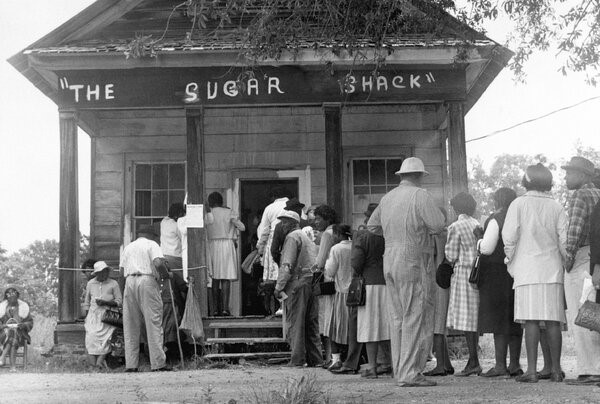 African-American voters, able to vote for the first time in rural Peachtree, Wilcox County, Ala., line up in front of a polling station at The Sugar Shack, a local general store. After the passage of the federal voting rights law in 1965, there were almost twice as many Black voters than whites.Getty Images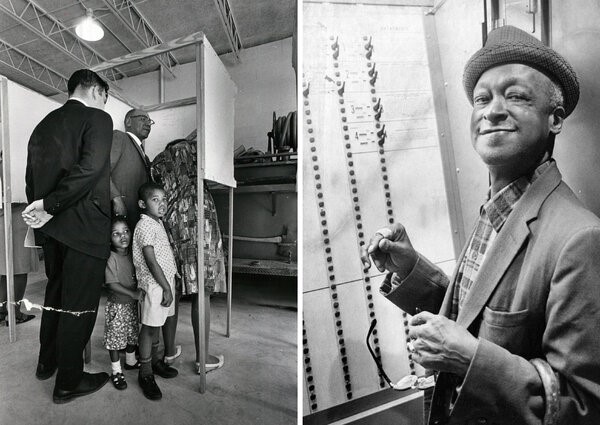 On the left, standing in a wooden booth, a woman is assisted by a volunteer worker and her two children in Fayette, Miss., as an election official looks on. She could not read and so the man beside her helped her cast her vote. On the right, a man casts a ballot in Manhattan on Nov. 4, 1969.Bob Adelman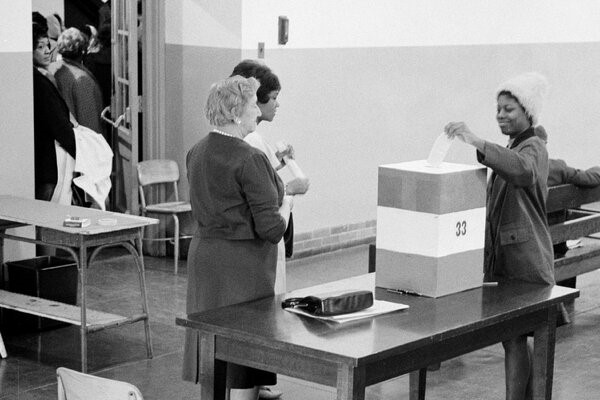 Ballots were cast at Cardozo High School in Washington, D.C., in 1964.Getty Images