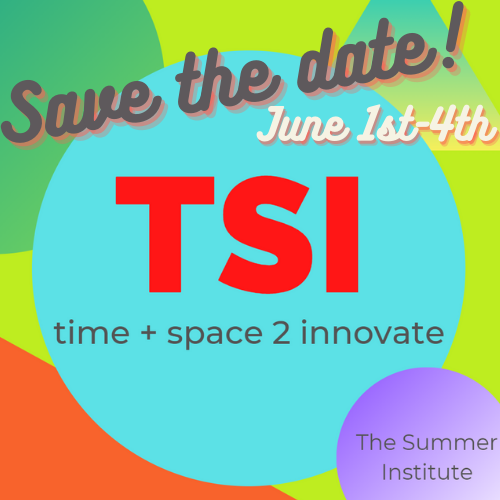 Make those plans to get out and about for summer after June 4th because… TSI is back for our 4th year! And we'll be virtual again!!
What is TSI?
TSI is an AFT-sponsored, innovative virtual 4-day conference. This year it is Tuesday, June 1st – Friday, June 4th.
Mornings include an online synchronous workshop from 9-11am led by a pair of colleagues from different colleges and disciplines who provide opportunities for us to explore how we teach.
Afternoons include:
Live 15-minute Lightning Sessions with innovative teaching ideas
Health & Wellness Activities
Pre-recorded Workshops that dive deep into dynamic teaching
Most importantly, Time and Space 2 Innovate is built into TSI for participants to apply concepts learned in their unique class environments and get a strong start to fall before summer even begins!
1-2 SDSU units are available for payscale advancement @ $80 per unit.
2 days = 1 unit; 4 days = 2 units
More details to come!
Jen & Denise
Questions? 
Contact Jennifer Boots jboots@sdccd.edu
Here are some comments from participants in previous years:
"It is absolutely a game changer!!! I learned so much and definitely returning here again. Looking forward for the next year's experience."
"For me the most helpful aspect of it all was to be able to 'look over the shoulder' of so many faculty colleagues to see the great variety of ways they approach our common challenges. Virtual hugs to all of you who worked so hard to make this possible!!!!!!"
"My eyes are tired, yes, but it is because the material is so good that I did not want a miss anything."
"Thank you: a great reminder of how beautiful & vital teaching can be."
"I thought it was great! It allowed me time to work with the tools immediately after learning about them."
"This was truly amazing. I can't believe you managed to make this as meaningful as you did for over 100 participants."
"I liked the flow of synchronous in the morning and asynchronous in the afternoon."
"Today was so beautiful! I felt every emotion and connected with others on a level that I did not expect. Thank you! I am leaving this session very inspired!"
"Reflecting on the past four days, It has been a very positive experience for me. I wasn't sure the virtual format would work for me, and now completing the final day, I can say it has. I gradually recognize genuine connections can be made with thoughtful intent."
"I felt that we were face to face!"
"I really appreciate the amazing hard work. This conference exceeded my expectation and I am immensely grateful for it."