Dear Colleagues,
Please come on out to the annual SEJ Happy Hour fundraiser on Friday, April 26th from 5:30-8 at Jim Miller and Kelly Mayhew's house!  Click here to purchase tickets or make a contribution if you can't attend.
The Students for Economic Justice (SEJ) fellowship trains college students in community and labor organizing and creates a pipeline for students to become leaders in the labor movement and be at the forefront of the fight for social justice in San Diego. With the ongoing political climate, this program is more important than ever.
Come help in celebrate and support tomorrow's leaders, where you'll have the opportunity to meet the 2019 SEJ cohort, as well as many of its alumni.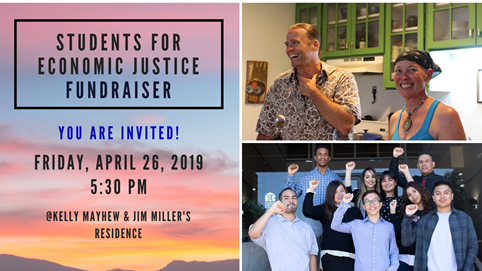 Where: Kelly Mayhew & Jim Miller's Home in Golden Hill
(Address provided upon RSVP)
When: Friday, April 26th, 5:30pm-8:00pm
 Click here to purchase tickets
100% of the proceeds support the SEJ program. All SEJ fellows earn a living wage during the program. Your contribution supports our ability to ensure students are able to support themselves during the program. 
Hope to see you there!  If you can't make it, please still consider making a donation!