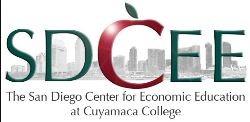 The San Diego Center for Economic Education at Cuyamaca College is offering free personal finance sessions for teachers and staff within CalSTRS and CalPERS.
These sessions are being co-presented by an accounting professor at Cuyamaca College and a financial aid program specialist at Grossmont College and will not end with a sales pitch.
We're offering four sessions covering different topics on consecutive Thursdays from 2:30-4:00 pm starting on March 11th. You can pick and choose the ones that interest you. Click on the links below to register:
March 11, 2021: Investing & Retirement
March 18, 2021: Home Ownership + Taxes
March 25, 2021: Savings + Smart Credit Use
April 1, 2021: Budgeting, Risk Management & Your Financial Plan
Help us spread the word and invite friends.
Who/what is SDCEE? (www.SDCEE.org)
The San Diego Center for Economic Education (SDCEE) at Cuyamaca College is your premier provider of economic programs for K-12 schools in San Diego County and surrounding areas. SDCEE helps schools to integrate the teaching of economics across all grade levels. SDCEE is an affiliate of the California Council on Economic Education (CCEE) and the Council for Economic Education (CEE).
Sincerely: Tony
—
Anthony Zambelli, JD
Director, San Diego Center for Economic Education
Professor Emeritus
Business and Professional Studies Department
Cuyamaca College
900 Rancho San Diego Parkway
El Cajon, CA 92019-4369
619 660-4318