Dear AFT Guild Members,
For those of you with Student Loan Debt, please take note of the new benefits/workshops our national AFT is offering to help lessen your loan re-payment burden.
In Solidarity,
Jim
Jim Mahler, President
AFT Guild, Local 1931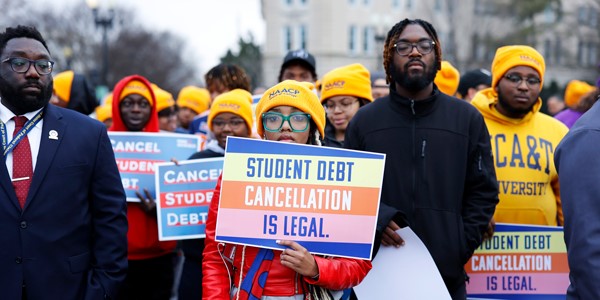 PAYMENT DUE: New ways to reach debt relief
The student loan landscape has been changing—a lot—and the AFT is working hard to be sure members know how to navigate it and get debt relief as soon as possible. The biggest news is that, after a three-year hiatus, borrowers will have to start making their student loan payments again beginning Oct. 1. The next biggest news? The SAVE plan, a more generous income-driven repayment plan that will save borrowers thousands of dollars and qualify them for Public Service Loan Forgiveness. As you dig into the details below, remember that the AFT has your back, with student debt clinics and online resources to guide you through. And, we will continue to advocate for big-picture policy change so that everyone can afford to get the higher education they deserve, without having to take on a lifetime of debt to do it.
Loan payments resume: Debt clinics can help
Student loan borrowers are dreading the resumption of their loan payments after a three-year hiatus that began during the pandemic. Interest on student loans started accruing again Sept. 1; loan payments resume Oct. 1. To help ease the transition, the Department of Education has made some changes, including much more generous parameters for income-driven repayment. The AFT is here to help you sort through it all and find the best pathway to debt relief, with weekly student debt clinics, resources at cancelmystudentdebt.org, and access to Summer, an online resource that helps AFT members navigate student loan repayment for free. Sign up for a clinic here.
New SAVE plan will save borrowers thousands
The Biden administration has been working hard to reduce the burden of student debt for years, and though the president's proposal to cancel up to $20,000 in student loans across the board was rejected by the Supreme Court, he continues to make changes to make loan relief a reality. The Saving on Valuable Education plan, or SAVE, changes income-driven repayment—which bases monthly student loan payments on a percentage of the borrower's current income and family size, rather than the amount of the loan—to make it more generous. The new payments will be based on just 5 percent of a borrower's income, rather than on the 10 percent that has been used in the past. Borrowers who earn less than $15 an hour will not have to make any payments, and those who earn more will save more than $1,000 a year. SAVE is also a qualifying repayment plan for Public Service Loan Forgiveness, and will advance borrowers toward the 120 payments required for debt cancellation. Finally, the plan will prevent balances from growing because of unpaid interest. Check out the details here.
Official checklist for repayment and debt relief
It may seem simple—student loan payments resume Oct. 1—but once you dig into the details it can get complicated. To make sure you have the best possible arrangement toward debt payment and/or relief, the Department of Education has created this checklist. Simple steps can make all the difference—like updating your contact information with studentaid.gov, recertifying your income for income-driven repayment, saving 0.25 percent in interest by enrolling in autopay, and double checking whether you're eligible for loan relief such as Public Service Loan Forgiveness. It's worth a look to be sure you're on track.
My journey to student loan relief
Luz Sosa, a professor of economics in Milwaukee, had nearly given up on ever being free of student debt. Then her union stepped in to help with information and tools to move her toward debt cancellation. Although the Public Service Loan Forgiveness program was tricky at best, changes made by the Biden administration and advocacy from Bernie Sanders and others put debt relief within reach, and today Sosa is thrilled to write that her debt burden has been lifted. Read all about it on AFT Voices.
A navigation guide for the student debt journey
We hear about it all the time in our student debt clinics: Members are struggling to pay off their student loan debt and simply don't know who to turn to for help. Summer, an online resource started by student loan borrowers who wanted to help others avoid bad information, can cut through the confusion. Its experts know the ins and outs of how to reach student loan relief fast, and the AFT has made their services free to AFT members. Whether it's enrolling in the SAVE program or completing PSLF paperwork, this is the place for guidance. Check out Summer here.
Advocating at every level
The AFT has been fighting student debt for years, not only helping individual members find debt relief but also pushing policymakers to change a system that has afflicted our nation with a total of $1.7 billion in student debt. We have filed amicus briefs in court cases, joined elected officials to support debt relief legislation, and participated in the more esoteric but just as important rulemaking process at the Department of Education, always pressing to eliminate student debt and make higher education available to anyone who wants to access it—without having to take on a "debt sentence" to do it. In this testimony, AFT President Randi Weingarten lays out the argument for student debt relief to the rulemaking committee in charge of policy at the Department of Education. Image credit lucas deaver/Getty