\2015 Conference on Labor and Community Solidarity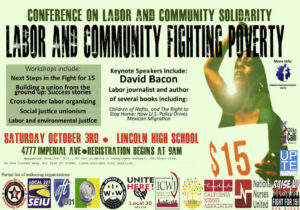 –Labor and Community Fighting Poverty–
Saturday, October 3rd, Registration begins at 9:00 am, 10-5:30 program
Lincoln High School
4777 Imperial Avenue
This year, the Labor and Community Solidarity Conference is bringing together union activists, community organizers, and others committed to building a stronger labor movement and social justice.
This year the theme will reflect the growing and diverse efforts to fight poverty on a national and international scale. This includes the growing momentum in the Fight for $15, the struggle for full rights and equal pay for adjunct educators, the farmworkers movement for a living wage in San Quintin, Mexico, and more. The conference will also feature discussions of current labor struggles, workshops on organizing in the workplace, and linking labor and community-based campaigns.
The conference will include panels and workshops on the following themes:
Next steps in the fight for a $15 minimum wage in San Diego – How to build a union from the ground up: a recent success story – Organizing for justice for adjunct educators – Social justice unionism – Environmental justice and the labor movement – Strategies for building labor-community solidarity –
Fighting sexual harassment in the workplace-Labor struggle in Mexico and building cross-border
solidarity and more!
Registration begins at 9am, opening plenary begins at 10am
Workshops will run from 11:30-4:30 – Lunch will be served
Suggested Donation: $15 General; $5 for students and unemployed workers. $25 Solidarity donation. Children free.
No one turned away for lack of funds.