TSI is an AFT-sponsored, innovative virtual 4-day conference. Want to be a part of this year's presenting team on Tuesday, June 1st – Friday, June 4th?
We invite you to share an idea you'd like to present as a Lighting Talk during one of the four days. Lightning Talks are 15-minute presentations delivered live via Zoom to TSI Participants. During the past year remote, we know that you have created, developed, and integrated a variety of innovative, unique, dynamic learning experiences with students.
Please consider sharing an activity, idea, technique or tool this year. You can complete the Google Form below or email aftthesummerinstitute@gmail.com if that's easier for you.
Questions:
First and Last Name
College
Department
What innovative, dynamic, unique, fun idea would you like to highlight and share? (This answer can be as short as a few sentences).
Link to Google Form: TSI Invitation to Present
Please submit your idea by Wednesday, March 17th.
Denise & Jen
Questions? 
Contact Jennifer Boots jboots@sdccd.edu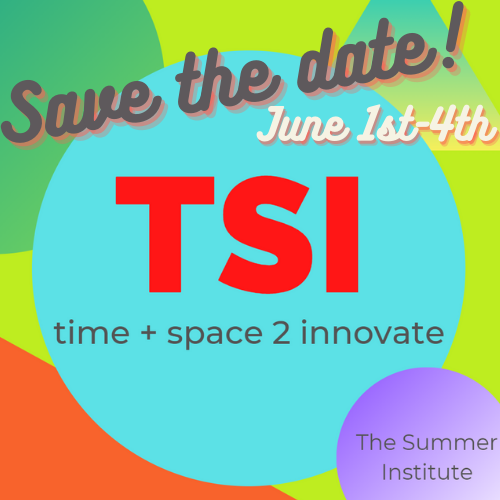 Make those plans to get out and about at the start of summer after June 4th because… TSI is back for our 4th year! And we'll be virtual again!!
What is TSI?
TSI is an AFT-sponsored, innovative virtual 4-day conference. This year it is Tuesday, June 1st – Friday, June 4th.
Mornings include an online synchronous workshop from 9-11am led by a pair of colleagues from different colleges and disciplines who provide opportunities for us to explore how we teach.
Afternoons include:
Live 15-minute Lightning Sessions with innovative teaching ideas
Health & Wellness activities
Pre-recorded Workshops that dive deep into dynamic teaching
Most importantly, Time and Space 2 Innovate is built into TSI for participants to apply concepts learned in their unique class environments and get a strong start to fall before summer even begins!
1-2 SDSU units are available for payscale advancement @ $80 per unit.
2 days = 1 unit; 4 days = 2 units
More details to come!
Jen & Denise
Questions? 
Contact Jennifer Boots jboots@sdccd.edu
Here are some comments from participants in previous years:
"This week was transformative! I will be back next year"
"Thank you: a great reminder of how beautiful & vital teaching can be"
"Thank you for putting together this institute. Well done. We grow together."
"Wonderful conference!!"
"Can't wait to try this on again next year and being a part of the team."
"Today was so beautiful! I felt every emotion and connected with others on a level that I did not expect. Thank you! I am leaving this session very inspired!"
"It helps to remind each other we are human and we must bring our humanity into our teaching."