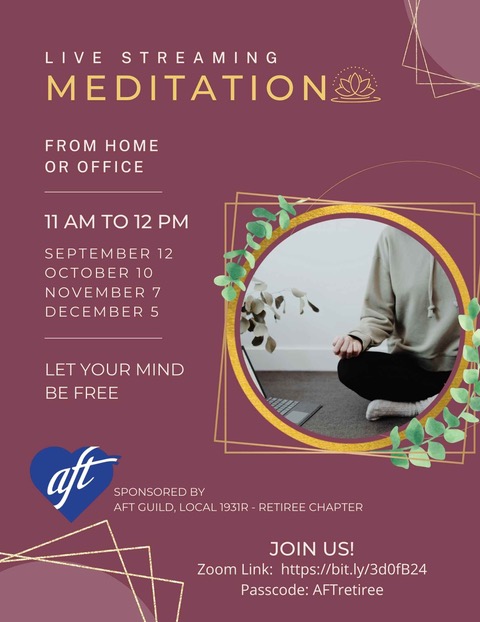 Dear AFT Guild Members,
In conjunction with our Retiree Chapter, we are pleased to continue to offer a free live streaming monthly meditation practice!
All sessions are with renown yoga and meditation instructor Sarah Clark. Our next session will be held this coming Monday, October 10th, from 11:00am-12:00pm.
From Sarah: "The session will begin with a brief check-in where people have an opportunity to bring their voice into the zoom room, allowing us to get know one another a bit more. We then move into some practice time, exploring various meditation techniques with gentle guidance. Then we have some time for sharing thoughts and reflections about that experience, with an encouragement to wonder about what the practices have to do with our complex human lives. All folks, of all kinds, and at any level of experience with meditation are welcome!"
We hope you'll be able to join us. See more details below. If you have any questions or comments about these classes, please contact Anita Martinez, Vice President of our AFT Guild Retiree Chapter at anitamartinez@icloud.com .
Join Zoom Meeting
https://us02web.zoom.us/j/81036653135?pwd=S205bnV1emt5SnRrRGc2dFh0d1VhQT09
Meeting ID: 810 3665 3135
Passcode: AFTretiree
sarah clark
i n t e r c o n n e c t e d y o g a
www.sarahclarkyoga.com