I am pleased to report that all four of our endorsed candidates for Board of Trustees won their primary elections easily over their opponents!  All four of these contests will be be repeated in the general election in November.
As of this morning, the results were as follows: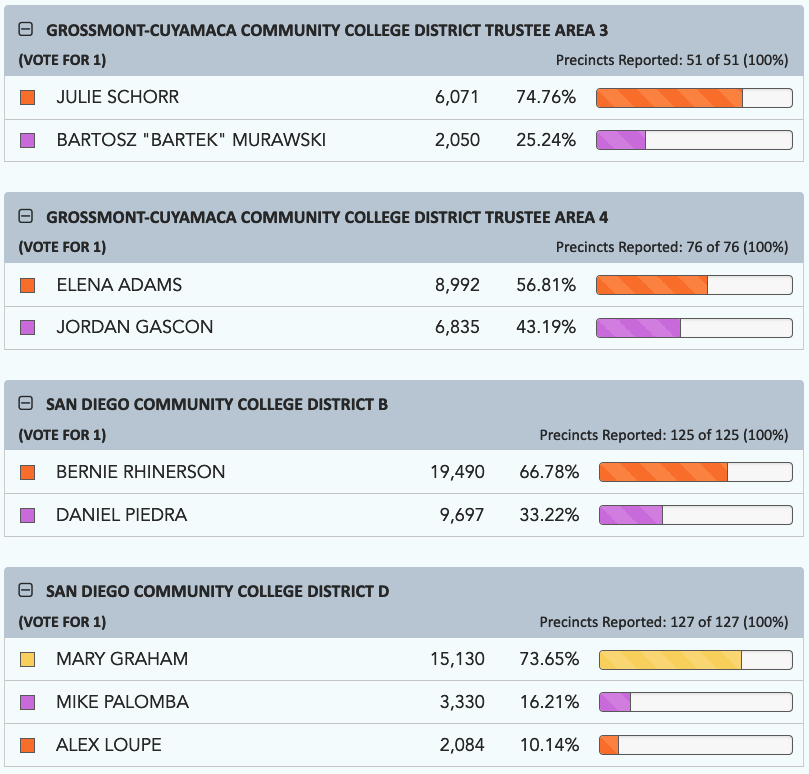 Our locally endorsed ballot initiatives were split:
MEASURE A – Save our San Diego Countryside is losing with only 49% voting "YES" (we had a "Yes" position on this one), and
MEASURE B – Newland Sierra Development is losing with 58% voting "NO" (we had a "No" position on this one).
Unfortunately, the Statewide Ballot Measure, Prop. 13  – School and College Facilities Bond is losing with only 44% voting "YES" (we had a "Yes" position on this one).
Note that there are still approximately 350,000 outstanding ballots countywide to be counted, so these results may shift slightly, although it's doubtful any will shift enough to alter the outcomes stated above.
To view other local results, click here, and to view other statewide results you can click here.
And for a good view of how things are stacking up in the race for the Democratic nomination for U.S. President, click here.
Thank you all for voting and making your voice heard!
In Unity,
Jim