Dear Colleagues,
As we approach May Day, you might be interested in tuning in to this short documentary regarding the history of May Day and what the PRO Act will mean for workers.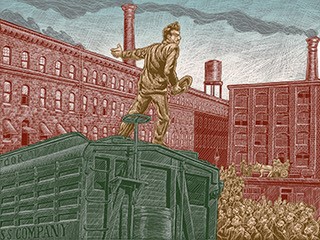 Video Screening April 29
What:
A special sneak preview screening of a video in progress:  We mean to make things over:  A labor history of May Day and discussion of the PRO Act (Protecting the Right to Organize Act).
When:
Thursday, April 29, 7-8 pm
Who:
Fred Glass, filmmaker and East Bay DSA member
Daniel Dominguez, Democratic Socialist Labor Commissioner
Becky Rhodes, Political Director, Alameda Labor Council
Where:  
By reservation on Zoom here
Why:
May Day, International Workers Day, celebrates a century and a half of workers' struggles for the eight hour day, and commemorates a history that includes general strikes and the sacrifice of many workers' lives. This year the American labor movement is demonstrating on May Day for passage of the Protect the Right to Organize (PRO) Act.  It has passed the House of Representatives.  If it gets through the Senate it will remove the steep barriers to union organizing in the private sector recently demonstrated in the Amazon union election. The video details the suppressed history of a holiday celebrated the world over but not in the country that gave birth to it.
Program:
Fred introduces the video
We watch the video
Daniel tells us about the national DSA campaign for the PRO Act
Becky tells us about labor's plan to pass the PRO Act and invites everyone to come out at 10 am on May Day to march for the PRO Act in San Francisco
RSVP
Please go to the EBDSA Events calendar page to RSVP for the sneak preview of We Mean to Make Things Over: A Labor History of May Day.
We Mean to Make Things Over is a project of the Labor and Climate Justice Education Committee of the California Federation of Teachers.  The screening is sponsored by East Bay DSA. 
For more on the video and the talented individuals involved in its production, go here.
—
___________________________
Fred Glass