by JIM MILLER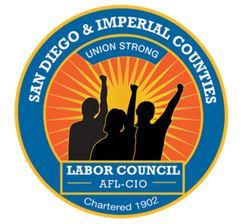 The San Diego-Imperial Counties Labor Council Passes Resolution in Support of  a Green New Deal
Sometimes the unexpected happens.  Last year, during one of her first visits to the Capitol as a newly elected member of the House of Representatives, Alexandria Ocasio-Cortez made headlines by joining a group of young activists from the Sunrise Movement protesting outside Nancy Pelosi's office and calling for a Green New Deal.  Since that time, Pelosi has formed a committee to address the idea, but, even more importantly, a Green New Deal has emerged as one of the key progressive talking points in the early days of the Democratic presidential race, forcing even some reluctant candidates to at least give it a nod.
Not surprisingly, probable candidate Bernie Sanders is at the front of the line, but he has been joined by Elizabeth Warren, Kamala Harris, and even some less likely suspects who despite their "centrism" seemed to feel it necessary to voice qualified if grudging support to some form of a Green New Deal.
That, dear reader, is how the discourse can be changed when progressives come out with unapologetically bold proposals that inspire the political imagination.  Thus, in the dark days of the Trump follies, it is pleasantly surprising to see the Green New Deal emerge as a litmus test of sorts for his would-be replacements.
Of course, at this point, the idea of a Green New Deal funded by something like a wealth tax or an increase in the marginal tax rate on the rich up to 70-80% (as it was in the middle part of the last century) is largely aspirational until we get a change in the White House and Senate. Nonetheless, it is worth considering what such a policy should include at present even if all that does is move the national discourse away from braindead climate denial to a fresh call for urgent and dramatic change.
So what would a Green New Deal entail and why should working people support it?  Jeremy Brecher and Joe Uehlein give us a pithy summary in a recent In These Times piece "12 Reasons Labor Should Demand a Green New Deal":
The Green New Deal is a program that all trade unionists and advocates for working people can and should get behind.
While there are a variety of detailed proposals for a Green New Deal, Alexandria Ocasio-Cortez' proposal promises to create millions of jobs through building a new 100%-renewable electrical system and a national "smart grid," retrofitting residential and industrial buildings, and building a new, low-emission transportation system.
It also seeks to end the epidemic of poverty by mitigating deeply entrenched racial, regional and gender-based inequalities in income and wealth and distributing federal aid and other investment equitably to historically impoverished and marginalized communities.
At its core, the Green New Deal would work toward saving the climate by meeting scientific targets for the reduction of greenhouse gases, investing in the drawdown and capture of greenhouse gases, and making "green" technology a major export of the United States to help other countries transition to carbon-neutral economies.
Brecher and Uehlein go on to outline why labor should robustly support such a program citing the need to avert climate catastrophe, providing jobs for all, abolishing poverty, rebuilding the labor movement, uniting the working class, winning wide support for a labor-friendly program, building a powerful union-friendly coalition, unifying labor and environmental groups, challenging the corporate domination of the Democratic Party, strengthening worker bargaining power, expanding union apprenticeships and training, and establishing a standard for how politicians can claim to be friends of labor.
Still, many of the specific details of this type of program, such as the climate jobs guarantee, remain a work in progress and, as the young activists from the Sunrise Movement and their allies in Congress have made clear, they want to hear from unions.
In that spirit, the San Diego-Imperial Counties Labor Council's Environmental Caucus brought the following resolution to the entire Labor Council at the January meeting and it was overwhelmingly passed.  Those of us in the local labor movement hope this resolution, the first of its kind from an American Labor Council, will serve as a touchstone to help spark and guide a larger discussion inside the American labor movement and elsewhere:
San Diego-Imperial Counties Labor Council Resolution in Support of a Green New Deal with Strong Labor Provisions
WHEREAS, the UN Intergovernmental Panel on Climate Change has determined humanity has twelve years to act to avert the worst effects of a climate catastrophe; and
WHEREAS, climate change poses an immediate and long-term threat to all working people, our communities and our economic security; and
WHEREAS, workers, communities of color and low-income people suffer disproportionately from environmental degradation and climate change; and
WHEREAS, climate change is already harming working families and vulnerable populations through extreme hurricanes, wildfire, drought and flooding, increased stress on the agricultural sector, health impacts like heat stroke and the spread of infectious diseases; and
WHEREAS, without taking concrete action now to address the climate crisis, the well-being and economic future of generations of people will be severely and irreversibly jeopardized; and
WHEREAS, young climate activists and some members of Congress have successfully put the Green New Deal at the center of national discussion about how to address both the climate crisis and our historic level of economic inequality; and
WHEREAS, if climate action is to address inequality, the labor movement must be at the center of shaping climate policies to include just transition for workers, expand collective bargaining rights and create green union careers, particularly in disadvantaged communities; and
WHEREAS, workers in existing jobs, including firefighters, nurses, construction workers, public transit workers, many in the public sector, and many more are already mitigating the health and environmental effects of climate change, preparing our infrastructure for sea level rise, and advancing California's clean energy economy through a variety of ways; and
WHEREAS, with the support of the State Building and Construction Trades Council of California, AFL-CIO, California has adopted a goal of 100% renewable and zero-carbon electricity and has demonstrated that clean energy industries can create good, middle-class jobs when linked with collective bargaining agreements; and
WHEREAS, the American Federation of Teachers, the Service Employees International Union, the California Nurses Association, the Labor Network for Sustainability, the Blue Green Alliance, and other labor organizations and their community allies have passed resolutions and/or supported bold policies to address the climate crisis and other pressing environmental issues
WHEREAS, the Environmental Caucus of the San Diego-Imperial Counties Labor Council Environmental Caucus Mission Statement, unanimously approved by the Labor Council Delegates commits the Labor Council to "Pushing for bold new political and policy initiatives that move beyond lip service to effectively address the two great issues of our age—historic economic inequality and climate change."
THEREFORE, BE IT RESOLVED, the San Diego-Imperial Counties Labor Council, AFL-CIO supports a Green New Deal that expands collective bargaining and ensures the creation of union jobs through card check neutrality agreements, prevailing wages, project labor agreements, enacting the provisions of the Employee Free Choice Act and requiring direct partnerships with joint labor-management apprenticeship programs; and
THEREFORE BE IT FURTHER RESOLVED, the San Diego-Imperial Counties Labor Council, AFL-CIO supports a Green New Deal prioritizing projects, union career opportunities and investments in working-class, low-income and communities of color historically and disproportionality impacted by pollution, high unemployment, poverty and environmental injustice; and
THEREFORE BE IT FURTHER RESOLVED, the San Diego-Imperial Counties Labor Council, AFL-CIO supports a Green New Deal that includes a fair and equitable Just Transition for workers impacted by a transitioning economy including a fund to provide severance packages, lifetime income, free education and family healthcare; and
THEREFORE BE IT FURTHER RESOLVED, the San Diego-Imperial Counties Labor Council, AFL-CIO supports a Green New Deal that includes Buy America provisions.
THEREFORE BE IT FINALLY RESOLVED, the San Diego-Imperial Counties Labor Council, AFL-CIO will advocate for a Green New Deal with strong labor provisions in concert with our environmental and community partners.
Source: https://obrag.org/2019/02/labor-council-in-san-diego-on-board-with-the-green-new-deal/